Network Cable Installation
A proper network cable installation is imperative
Education facilities require a good network cable installation that will support all the needs that technology entails in this day and age. Good cabling is the base of the structure that is going to set the foundation for a system that will work accurately and at top efficiency.
Make sure your network will support your campus now and in future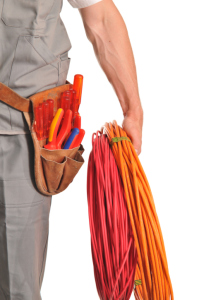 Most network failures are routed from bad or incorrect wiring problems and not the actual service or equipment. Whether you are building a new school, need to update an existing building or are having technical issues with your equipment we can help.
All of Guyette Communication Industries' engineers and technicians are manufacturer-certified and backed by outstanding test gear to get to the real root of the problem. We also have a RCDD on staff available to oversee ongoing project requirements for industry standard certification. Any network cable installation by our team will be top-knotch and efficient.
CAT6, CAT5e, Fiber or Coax Cable
Our certified technicians can handle any size job:
• Certified Hubbell Premise Wiring – 25 year warranty!
• Leviton Certified Cabling Systems Partner
• ADC/Krone Certified Partner
Contact us today, for more information pertaining to your education facilities network cable installation needs!