Areas of Rescue Assistance
Areas of Rescue Assistance requirements are determined by state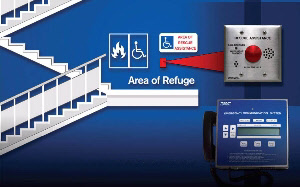 Areas of Rescue Assistance are designed for people that are unable to vacate a structure on their own in the event of an emergency. These spaces will be a safe place for them to call for help, and wait for rescue to assist their evacuation. Any new construction of public buildings, over one level, are required to install an area of rescue on each level above or below ground level.
General requirements for the emergency communication areas and equipment:
• Allow two-way communication when call is placed
• Have audible and visual signals that help has been reached
• Areas need to be clearly marked
• Must be located on each floor above or below ground level
• Connect to a central location in the building, or to an outside line if this is not possible
Trust us to construct and maintain your emergency communications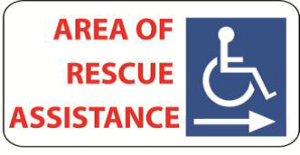 The professionals at Guyette Communication Industries have many years' experience designing, installing, and providing maintenance of emergency communication systems. The Areas of Rescue Assistance communication systems we design are assembled with Cornell equipment, the leading manufacturer in this field. There are digital and analog versions available to match your existing or new network.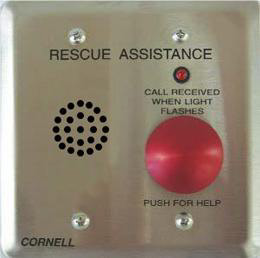 Cornell manufactures trustworthy products that will easily integrate with other emergency or communications equipment for an overall unified system. All of their equipment is made with vandal proof panels, weather resistant features are available, and battery backups are always included to make sure it will properly function when needed.
Multiple options are available for the required signs to mark these areas. There are instructional, electric, photo-luminescent and static models to choose from. Cornell also includes an unbeatable 10 Year Manufacturer Warranty on all their products!
Please contact us today to discover which options would work best for your location!