Access Control & Door Security
Healthcare facilities encounter their very own unique set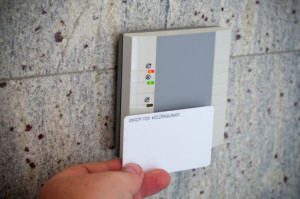 of security challenges. Having to protect the patients' safety and confidentiality, ensuring a secure work area for employees, and guarding the high risk areas is an extremely challenging task for any facility. Guyette Communication Industries understands the importance of security processes for all healthcare facilities, whether small or large, and these needs vary with each and every location. This is why we supply our customers only with best and most reliable access control equipment, with many options available to meet the diverse requirements of every facility.
Implementing a security platform is to help minimize the factors that could put the institution in a risky situation, especially with respect to liability and potential losses associated with litigation. Guyette Communications installs S2 Security for all door security needs. S2 Security pioneered the use of network appliances with 100% browser-delivered content to build flexible security and video management systems. Their products are continuously evolving to offer the best security solutions available. These door locking systems come with many options for:
Indoor or outdoor uses
Mechanical, electric, or magnetic locking systems
Preferred access controls for different spaces- Card (credential), Key fob, Key pad, Biometric
Easy integration with other security platforms in place
Limitless arrangements to cover the requirements of each specific area
S2 Security equipment will provide the protection you need for the areas you want to safeguard most. From just one door to every door in the building, our technicians can handle any size job. Please contact us today, to see what options will work to best protect your facility!