Digital Signage
Digital signage is an extremely helpful tool in the healthcare industry because it allows your facility to keep employees and patients more in sync and informed, and effortlessly assist in growing the reach your marketing efforts.
The use of digital signage is becoming more popular every day, because of the advantages that comes with implementing this marketing tool. Guyette Communications offers StrandVision equipment, which offers a cost-effective and efficient way to promote healthy lifestyles, display community events, and provide directories and other listings in medical facility lobbies, waiting rooms, patient rooms and lounges.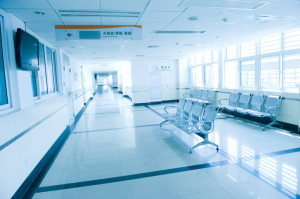 The wide acceptance in the marketplace comes from the large cost that is saved from eliminating printing and constructing static signage.
The data portrayed can be, without difficulty, quickly changed for ease of use and is able to present any material you wish right on the display.
There are many opportunities created when implementing digital signs throughout a healthcare organization. Following, are just a few models which are common practices to improve marketing efforts in a facility:
Rent advertising space to drug companies or other medical professionals
Display weather, news updates or timely communications about upcoming events, achievements and community announcements
Mass notification information can be displayed in a moment's notice to instruct people what to do in the event of emergency situations
Advertising for new technology or services being introduced in the facility, and congratulatory messages
Our experienced sales staff and technicians will design the arrangement according to the specifications of each individual facilities requirements and intended uses. Indoor and outdoor digital signage is available, so you will be able to reach your desired audience anywhere. Click on the following link to view a blog post written by the manufacturer Strand Vision. This post demonstrates how Guyette Communications implemented a digital signage solution for Mercy Center Nursing Unit Inc., and all of the resourceful ways we implemented it in their facility. Click here to view article from Strand Vision.

Please contact us today, to discover how implementing digital signage in your facility will increase the reach of your communication processes and potentially bring in more revenue from marketing possibilities!