Access Controls
Door access controls can provide the extra protection you need!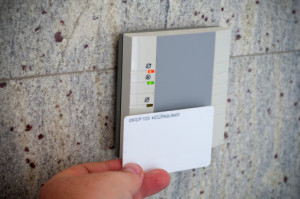 Adding door access controls to your security platform will add another layer of protection, and reduce possible threats for your organization in your high risk areas. Security needs will always vary and depend on the framework of the business, high risk professions require a lot more precautions, but less risky areas are starting to incorporate more safety measures as well for added convenience and protection.
These new options will better adapt to changes today, which is why many have switched to door access controls. Any of the solutions can be updated and deactivated more easily and quickly, instead of using the master key approach, which has to be changed at a large expense if one is lost or stolen.
Door Access Control Systems come with many solutions for:
• Indoor or outdoor use
• Mechanical, electric, or magnetic locking systems
• Easy integration with other security platforms in place
• Limitless arrangements to cover the requirements of each specific area
• Preferred access controls for different spaces- Card (credential), Key fob, Key pad, Biometric
The door access controls implemented are specific to each location
Guyette Communication Industries install S2 Security door locking equipment to meet the various needs of all our clients. S2 Security pioneered the use of network appliances with 100% browser-delivered content to build flexible door security, video management and intrusion detection systems, while their products are continuously evolving to offer the best solutions available.
The software and equipment available can limit access with role based permissions, and can keep track of who gained access to certain areas at specific times with detailed reports. S2 building access control systems also integrate with legacy access control systems, allowing for easy upgrades.
There are many areas within an industrial business that could benefit:

• Storage Areas
• Main Office/ Records
• Restricting Hazardous Areas
• Entrance Doors for limiting access
Whether you are a manufacturing plant or large distribution center, this equipment will provide the protection you need for the areas you want to safeguard most. From just one door to every door in the building, our technicians can handle any size job.
Please contact us today to discover which door access controls will provide the best protection and convenience for your organization! Always free quotes!