Fiber Optics & Data Wiring
Fiber Optics & Data Wiring will improve your network
The opportunity to improve productivity through technology is all around you, and executing a professional fiber optics & data wiring installation is a key factor! Guyette Communication Industries have chosen the leaders in network infrastructure to meet your every need in the following key product segments:
Copper Systems
Fiber Systems
Cable Management
Delivery Systems
All our manufacturers offer a comprehensive line of wiring and corresponding components, which include wall and rack mount enclosures, splice trays, and accessories for all fiber optics & data wiring installations.
It takes a trained Technician to properly install Fiber Optics & Data Wiring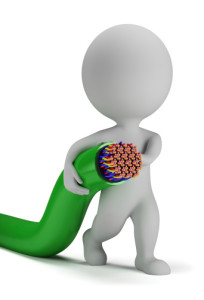 The integrity of an installation is essential to overall system performance. Industry analysis reveals that up to 70% of network failures are a result of poor cabling infrastructure; which is why Guyette Communications has MANUFACTURER CERTIFIED ENGINEERS AND TECHNICIANS backed by outstanding test gear to make sure every installation is top notch.
Our factory-certified install staff have logged thousands of hours terminating via mechanical, epoxy or fusion connection errors. We also have a RCDD on staff available to oversee ongoing project requirements for industry standard certification.
CAT6, CAT5e, Fiber or Coax Cable – our certified technicians can handle any size job:
Certified Hubbell Premise Wiring *25 year warranty*
Leviton Certified Cabling Systems Partner
ADC/Krone Certified Partner
---
Please click on your industry below, to get more detailed information on products and services that will meet your needs!