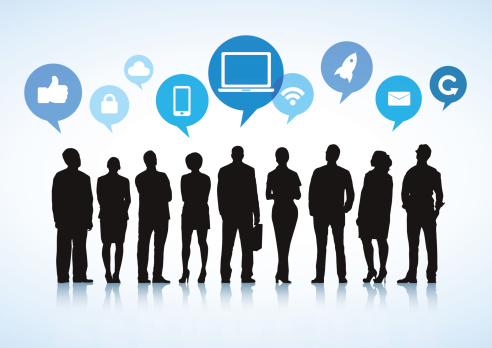 Everyone is always talking about Unified Communication (UC). What exactly is it? A new service? Or maybe a new product? Why is it so important if you are getting along just fine without it? Well the fact is, you are probably using every day and don't even realize.
Unified Communication is when the devises you use to communicate everyday are brought together to work together as one whole system to streamline your processes, save time and money!
Maybe it just never crossed your mind, figured you didn't have the money to invest in new equipment, or thought your business was too small to need something more advanced then a single phone line. Some people are even misled into what is possible with the devises they already have, because the ones supplying the products and services are not knowledgeable enough in that field. There are so many opportunities today that permit employees to focus on more imperative task, and have all the information they need right at their finger tips.
Think about how much time is spent in a typical day trying to contact others, or waiting for them to call you back with important information. And as soon as you go to refill that empty coffee cup, the call comes and you miss it. Then you end up playing phone tag with the person, or misinterpret important information because of a hard to hear voice-mail.
UC is critical because of the opportunities it creates with the many devices we use in this technology driven world. Automating mundane tasks, mobility features, and presence information are just a few of the helpful tools possible when implementing a unified communication system. The UC features executed should be customized to the specific needs and requirements of each situation if properly implemented, because they can differ greatly between industries and each location. This way the organization is not overloaded with technology that will not be used, and leaves the option open to remove or add other features when the need arises, or as budget permits.
There are many low-cost solutions now available with the deployment of cloud-based technology, leasing options, financing, and integration of existing equipment (if capable) that allow for a streamlined UC process. Total cost of ownership is also an important factor that should be considered when re-evaluating the communication options that will affect the organization as a whole. Will the companies' needs be changing a lot? Is there a plan to downsize, grow or branch out? Are there many locations? Proper planning is key to having UC work in your favor!
Every business and facility has very different communication needs, and this is why we are here to help. Our employees have accumulated many years of knowledge and experience to be able to find the best unified solutions for every situation. Check out this white paper below from our telephone manufacturer NEC, which explains in more detail the many potential benefits of implementing Unified Communication within your establishment!
Link to the whitepaper here:
NEC – Unified Communication





by

---