School Sound Systems
Guyette's will provide customized school sound systems for any area or use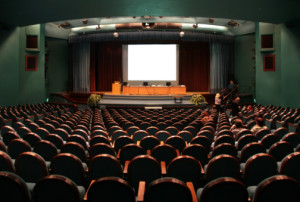 School sound systems support many uses everyday, but if the sound coming from the speakers is not audible then it will not be effective. Whether your education facility is looking to improve the sound in an auditorium, recreational area or throughout the whole campus, we are here to find the best low-cost solution for you!
Creating a professional sounding audio system for your school doesn't have to cost a lot of money, if properly installed. The sales staff, engineers and technicians here have the knowledge and training to use the natural acoustics of the areas, existing equipment integrations, along with a minimal amount of quality equipment installed to achieve the best sound solution possible.
Many years have been spent finding the best products available for schools
The equipment that Guyette Communications installs only comes from trusted manufacturers that we have been working with for many years. They all have proven to be of top quality, durable and work great for school sound systems applications.
A majority of the sound systems we design are built with equipment from the Harman group, with names you would recognize like JBL Audio and DBX. Our team will find the best arrangement possible to create a set up that not only sounds amazing, but will also be easy to use.
Technology has made sound management easy and simple!
There are advancements in the technology with school sound systems these days that were never available before, and are great additions to just a basic set-up. For example, education facilities have enjoyed implementing an app-based solution that creates easy zone assignments to quickly change the sound for different uses. So you could easily transform your gym from a basketball game to a chorus recital with just a click of a button!
Many options are available with equipment, software and integrations
Whether you are trying to improve an existing sound system or building a new location, the employees here will carefully design a professional arrangement that will meet and exceed all your needs! Contact us today to start constructing a sound system that will transform any space in your school.