Teleconferencing
Teleconferencing solutions will produce many valuable opportunities
An organization can greatly benefit from adding professional teleconferencing equipment to the communications portfolio. Teleconferencing tools will provide a fail proof and hacker resistant connection that will better serve government employees, then other unrestricted alternatives on the internet today. This equipment and software creates another outlet for time and cost saving actions to take place for the establishment.
Each organization that we have provided teleconferencing solutions to found many uses for this equipment, and benefited by:
• Creating secure staff meetings with satellite locations or districts
• No transmission of RF signals so information will stay secure
• Conduct exchanges of information with others around the world
• Present documents and work collaboratively on a shared whiteboard
• Easily record and reference back to past meetings
• Virtual training options opposed to on-site training
Many options to implement teleconferencing solutions for different uses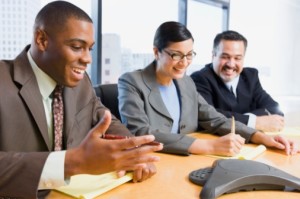 Teleconferencing solutions are assembled for the specific needs of the agency with options corresponding to audio, video and web-based equipment. The arrangements and types of products can be combined for an almost endless set of applications to provide many uses.
From implementing new equipment, software, video and online applications to incorporating existing communications equipment on site will allow more mobility for everyone. Teleconferencing solutions will greatly reduce operating cost as well, if long distance communication and travel is a common occurrence within, or compared to a hosted solution where you would have monthly reoccurring charges.
Discovering options, which will best support your location, is just a call away!
Teleconferencing tools come in many forms, shapes and sizes, which will provide long-term solutions for any government agency, no matter the size. The advanced features available today are creating many opportunities to enhance the organizations communication methodologies.
To discover which equipment and software solutions will complement your objectives, contact us today!